Sargent Law Firm – Best Law Firms in America 2018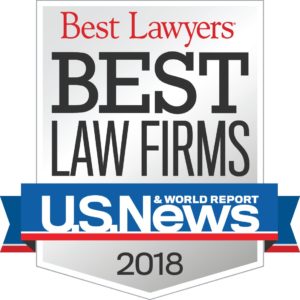 Sargent Law is proud to announce that it has once again been named one of the Best Law Firms in America in 2018 by U.S. News – Best Lawyers in the area of Personal Injury Litigation – Defense.
There can be steep financial consequences for those facing a lawsuit. The attorneys at Sargent Law are dedicated to ensuring individuals and businesses are protected against current and future claims.
The collective diversity and extensive litigation experience of each our partners combine make Sargent Law a formidable choice for defense. We have decades of experience in defending clients from individuals to Fortune 500 giants. With a background in dozens of industries and practice areas, we are adept at developing litigation plans tailored to unique issues. Our numbers are modest, but our record of success compares with that of much larger firms.
The firms included in the 2018U.S. News – Best Lawyers "Best Law Firms" list are recognized for professional excellence with persistently impressive ratings from clients and peers.
Rankings are based on a rigorous evaluation process that includes the collection of client and lawyer evaluations, peer review from leading attorneys in their field, and review of additional information provided by law firms as part of the formal submission process. To be eligible for a ranking in a particular practice area and metro region, a law firm must have at least one lawyer who is included in Best Lawyers in that particular practice area and metro, a list recognizing only the top 4 percent of practicing attorneys in the U.S.
Our determination and shared principles will carry us through the decades still to come, and we look forward to being a part of the Texas legal community for all of them.
View the full Best Law Firms in America 2018, please visit bestlawyers.com.